As our world weathers COVID-19, and the ever-growing challenges it has precipitated, The Woods Project (TWP) is working to do the heretofore seemingly impossible – inspire students to reach beyond their perceived limitations, while simultaneously maintaining physical distance and limited travel! But alas, as our school partners and students have had to quickly learn to navigate remote learning and the myriad of unexpected effects on their lives, so too TWP is changing course in order to continue to meet our mission.

While TWP is, for the time being, unable to provide in-person programming, we are engaging our students in creative on-line programming, including activities, competitions, and opportunities to get outdoors. For the past 6 weeks, our TWP staff have been working on-line with our students as they identify their ten essential items needed during a pandemic, engage in knot-tying competitions, dive into art projects, virtually tour National Parks and museums, journal, and participate in Citizen Science Activities in their neighborhoods. In these ways and more, TWP staff are hard at work, ensuring that our students are staying connected, learning about their environment and themselves, and developing important life skills.

As the end of the traditional school year comes to a close, TWP is preparing to launch its first on-line virtual and interactive summer program to keep our students engaged, inspired, and challenged. Our goal of helping students develop the important life and leadership skills necessary for success hasn't changed; in fact, the specific skills our students develop through participating in TWP programing (adaptability, social intelligence, critical thinking, independence, perseverance, curiosity, self-control, and environmental awareness), are more important now than ever before. Our methods are having to change, but our eyes remain squarely on the prize.

As we embark on this period of great uncertainty, one lesson that I have learned from the past is that great adversity challenges us to meet the demands of the moment. How many times have I delighted in the stories of TWP students who looked at the apex of a trail, and despite their certainty that they would never be able to scale that peak, they most certainly did. As individuals, as a society, and as an organization, the peak rising above us is daunting indeed. But just imagine the view we will have earned when we arrive!

I look forward to updating you on our progress and to sharing our students' stories of growth and success.

Sincerely,


Natalie Hausman-Weiss
TWP Executive Director
---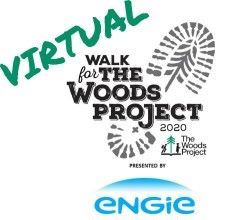 Registration is easy and free! Sign up today!

Make plans to join us May 15 – 17th for the virtual Walk for The Woods Project, presented by ENGIE. This is a REAL walk – you choose the route and what time you start.


Students remain the highlight of Walk for The Woods Project. Stay tuned to our Facebook and Instagram to see videos of students sharing stories about their TWP experiences.

Lace up those shoes and register to Walk for The Woods Project, presented by ENGIE! Regular physical activity is one way to keep your mind and body healthy. Be safe and practice physical distancing guidelines.

---
Congratulations and Farewell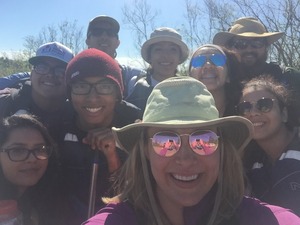 Congratulations to TWP Assistant Director, Brittany Jerz and her husband Jeff, on the birth of their beautiful daughter, Celeste Jane. Brittany has been with The Woods Project for nearly eight years. Her love and dedication for TWP has been critical to the shaping and growth of our organization. This June, Brittany will be stepping down from her position, as she cares for her daughter and focuses on the next chapter of her life. We are grateful for the wisdom, dedication, hard work, and unending spirit she has offered whole-heartedly during her time with The Woods Project. Brittany has been a true champion of TWP! We wish her the best in her future endeavors!
---
Finding MY Voice in the Forest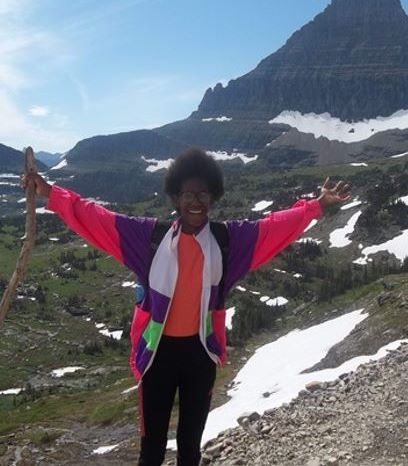 Kihana W. is a member of TWP's Junior Leader Program and attended 2018 summer program in Glacier National Park. Below, Kihana reflects on her experiences with The Woods Project:
The Woods Project has given me the skills and experiences to utilize for a lifetime! My experience in Glacier gave me the strength and confidence I needed to thrive in my academically rigorous junior year. Glacier was one of the most physically grueling, yet immensely socially developmental times of my life. Coming out of those mountains, I felt reborn!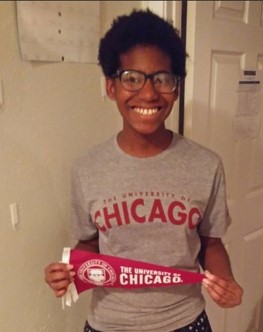 Being surrounded by the mountains far away from home was so refreshing for me, it is beyond words.
Not only did I gain invaluable wilderness competence, either from using a compass or building a safe fire or distinguishing between black bears and grizzly bears, I discovered so much about myself while in the backcountry. I grew confident in my leadership ability, opened up socially with my peers, and stretched my mental patience and physical endurance far beyond my comfort zone.
In the fall, Kihana will be attending the University of Chicago on a full scholarship. She will be studying Theoretical Physics and Creative Writing. We are so proud of Kihana and can't wait to see where the next part of her journey takes her.

With your support, The Woods Project can create even more life-changing experiences for students like Kihana. Your gift in any amount makes a difference!
---