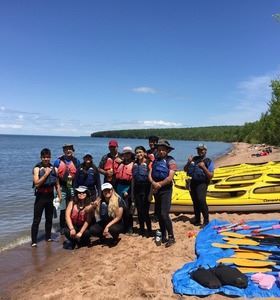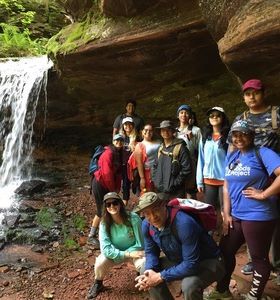 Hiking, paddling, and time for reflection…
Our Junior Leaders have returned from the Apostle Islands where their leadership, adaptability, and problem solving skills were put to the test as they navigated in kayaks across Lake Superior, camping on different islands along the way.  They have returned feeling a tremendous sense of accomplishment and are excited about the endless possibilities ahead!
Our traditional backpacking summer trips will begin on July 10th.  TWP students will be participating in day hikes, hands-on science lessons, journaling and reflection activities, team building exercises, and a multi-day backpacking trip through some of the most sought after trails in the country. For many of our students, this will be the first time they leave Houston, board a plane and experience the magic of a starlit sky! We know there will be many laughs, and probably some tears, amidst the unforgettable and life-changing moments that the summer trip provides. 
TWP has added a new summer location – Olympic National Park in Washington!  Students will be hiking along the Olympic Coast North (Shipwreck Coast), the Sol Duc Falls, and Happy Lake Ridge.  We are thrilled to expand our long-standing partnership with NatureBridge, who will be facilitating the outdoor educational program in the front country.
Special thanks to the many companies that have donated products and services in support of our summer program:
Clif Bar & Company
Columbia Sportwear Company
DICK'S Sporting Goods
H-E-B
Nikwax
Oberto
---
Alumni Spotlight
Name: Davion Zeno
TWP Trips: 2015 Donner Pass, 2016 Yosemite and 2017 Apostle Islands
College: University of Virginia
Grade: Junior
Davion Zeno's first exposure to The Woods Project was as a sophomore at Heights High School, when he decided to push himself beyond his comfort zone and embark on his first hiking trip. His fondest memory is admiring the views of Lake Tahoe after spending an entire day summiting Mount Tallac in Donner Pass. "If I could do this," he remembers thinking, "I can do anything." Davion "catapulted off" this experience, taking on many more trips and eventually becoming president of The Woods Project club at his school. It was also through The Woods Project that he was nominated and selected for a Posse Scholarship, a pre-collegiate training model that seeks to identify individuals with extraordinary leadership potential. In Davion's words, his experience with the Posse Foundation "equipped him with different techniques for how to handle future obstacles, in regards to socio-economic status, sexuality, and gender." Davion is also quick to point out that being a Posse scholar has allowed him to expand the many life and leadership skills he developed as a result of his participation with The Woods Project. "As far as… being adaptable, being social, being a great thinker, all those things show up. It's a really eye-opening experience." 

Although it's been more than five years since he first challenged himself to grow through a trip with The Woods Project, Davion still builds upon the skills he developed in his time as a participant. When Charlottesville, Virginia's "Unite the Right" rally turned deadly in August of 2017, Davion was forced to grapple with the struggles of a city he would soon be a resident of, as he had just committed to the University of Virginia. "I remember thinking, what am I doing? Am I sure I want to do this? And I had the same feeling as when I was about to go on my first trip." Davion had to use the skills of "becoming comfortable with being uncomfortable," and "rolling with the punches," in order to face adversity and become the person he is today. 
Currently, Davion is a rising junior at the University of Virginia, where he is working towards an interdisciplinary degree in global studies, with a concentration in environmental sustainability. "The Woods Project got me really inspired about the environment," he says. "It really became a passion." After college, Davion is considering pursuing a law degree, with aspirations in the fields of business, politics, law, or entertainment. Whatever path he chooses, Davion is resolved to spreading good throughout the world. "My biggest goal in life is to bring about systemic change. I want to give back to people who have been disenfranchised and marginalized. The greatest thing about the Woods Project is that you really get a chance… to open your eyes to many different avenues of how to become what you want to become."
---
Warehouse Space Needed!
The Woods Project needs your help!  We have recently learned that due to the impending build-out of our current storage area, TWP will be losing its warehouse space and will need to find a new location to store gear.  Since the vast majority of our gear is currently out at summer locations and moving it is no small feat, we would like to move into a new space in August – allowing our summer to be shipped back to the new location.  This leaves very little time to identify and secure a new home for TWP gear and will require as many people as possible to think about how they know who might be able to help.
We need 1,000 square feet of warehouse space where we can store camping supplies and gear (backpacks, tents, sleeping bags and pads, hiking boots, camp stoves, hydration systems, rain gear, compasses, bear cans, sealed food, etc).  Ideally this space will be centrally located, allow us access on nights and weekends, accommodate many volunteers managing gear, and be extremely affordable or free.  Climate controlled preferred, but not essential.
If you or someone you know may be able to help, please contact Natalie Hausman-Weiss, natalie@thewoodsproject.org, (205) 612-0773.
       
---
Get 20% Off at DICK's Sporting Goods -THIS WEEKEND!
Not only have the wonderful people at DICK's Sporting Goods donated $2,000 to The Woods Project to purchase Nalgene water bottles for all 2019 summer program participants, but they are offering another great deal to TWP community members!
This weekend (Friday, June 28 -Sunday June 30) at the Dick's Sporting Goods in Houston and Beaumont, TWP community members can get 20% off an entire purchase when they present the flyer below at checkout! If you are a student attending our summer program and need some supplies for your trip, this is a great opportunity to get equipped. Simply download this flyer, go shop at the store, and present the flyer at checkout either in printed form or on your smartphone.
Please read the fine print at the bottom of the flyer for restrictions on this offer.
---
Save the Date: 2019 Fall Luncheon
The 2019 TWP Fall Luncheon will take place on Tuesday, November 5th at the Junior League of Houston.  We are thrilled to have Guest Speaker Sehba Ali, CEO KIPP Texas Public Schools.  Mark your calendars and register today to have lunch with some of our amazing students!
Invest in Houston's youth by becoming an event sponsor.  Contact Jessi Manley for details, jessi@thewoodsproject.org.