FROM OUR EXECUTIVE DIRECTOR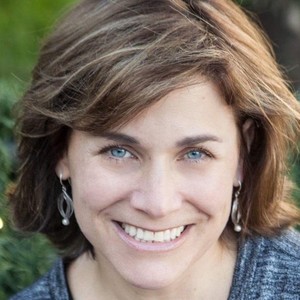 I was able to get a better idea of what type of man I want to become. – Jimmy
I learned that anything is possible if there is teamwork. -Feraidon
This experience has given me a new perspective. The view was worth the pain… we could see mountains in Canada. -Adrian
In case you were wondering, does it work? The answer is a resounding yes!
As the Executive Director of The Woods Project, I'm obsessed with details. I know our budget intimately, the dates and locations of every weekend and summer trip, how many uhauls we use, our preferred partners, menus, recipes and so much more. Yet, regardless of the details and planning that takes place in order to ensure that every dollar we are entrusted with is used to its best possible potential, the true effort and energy and investment that goes in to making TWP happen is priceless. In the waning days leading up to the summer, the details can be incredibly overwhelming. But as our students come to experience and recount their own most transformational moments, nothing is ever too much!
Summer 2022 was a true gift, for our school partners, our staff, our volunteers and most importantly, for our students and their families. This was the first summer since 2019 that TWP was able to run our traditional trips and provide our students with opportunities they so desperately need. 167 students and 58 volunteer leaders and staff participated in intensive two-week camping, backpacking and sea kayaking experiences in Olympic National Park, Donner Summit, Desolation Wilderness, and Lake Superior. And wow, was it terrific to be back in the Woods! I had the pleasure of spending four weeks in Donner Summit near Lake Tahoe. The views were fantastic – and I'm not only referring to the landscape! I saw students connecting with their peers and mentors and witnessed them pushing themselves well beyond their perceived limitations. They found a sense of belonging and purpose in a new community; their anxiety decreased; and they learned that they were capable of so much more than they had ever imagined.
Each of our summer students is invited to handwrite notes to those who have made their two-week experience possible. This summer, I remembered to sneak a peek at some of the letters and am so glad I did. Our students wrote about their unique experiences which emphasize the scope of The Woods Project Experience, which truly is best described in their own words…
I'm more social, I'm more positive and I'm grateful for everything in my life. We saw the sunset after a snowball fight in July! This trip made me a better person. -Venyali
I learned that I am strong and can push through any obstacles that come my way. -Valerie
I learned that no matter how impossible something looks, if I really push myself, I can do it. Looking up towards the mountain while hiking down, changed how I see myself. –Emmanuel
This trip allowed me to see that the world has so much more to offer. It has done so much for me I didn't think was possible. It has changed my view on life and has shown me that there are people who care and are very kind. -Kelly
Thank you for all that you do to support the important work of TWP. It makes all the difference in the world.
________________________________________________________________________________________________________________________________________________
---
ALUMNI SPOTLIGHT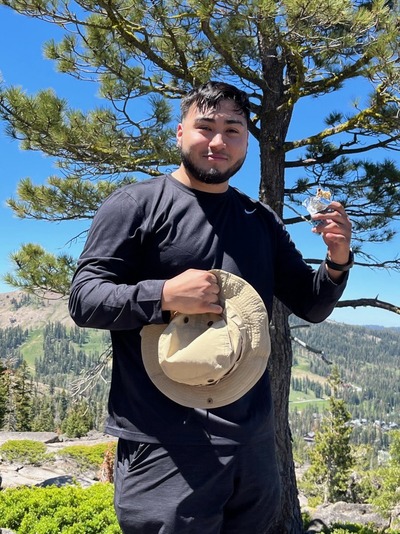 A true measure of success for The Woods Project is when our alumni return as volunteer leaders.
Miguel Esteban participated as a student during summer program in 2015. Currently Miguel is an ER nurse at a Level 1 trauma center.  Miguel has now participated as a volunteer for two summers.
Why did you get involved with The Woods Project? 
I originally got involved with TWP as a student my junior year of high school and was able to attend the summer trip to Yellowstone National Park. I enjoyed my experiences so much as a student, was so impressed by the personal growth I gained and the fun I had, that I decided to volunteer as a leader to give that same opportunity to kids who are from communities like mine.
What is your favorite memory from volunteering with TWP?
My favorite memory from volunteering with TWP is seeing everbyody's excitement, including leaders, when we reached the summit on our hikes. Particularly memorable was this past summer during our Donner Pass, CA trip, when we reached the summit of Mt. Tallac. It was absolutely breathtaking!
What value do you think TWP brings to the communities it serves?
The value TWP brings to the communities is it serving is priceless. We have kids who attend these summer trips who have never even been on a plane before. They are building new and unique experiences from the moment they step onto the plane. As I learned in many ways, including my own personal career, the best way to learn is through experience. Textbooks and lectures can only teach you so much. But bringing these kids out on these trips, exposing them to new experiences, new people, unfamiliar territory – that is what gets the job done.  The Woods Project experience is priceless.
Can you describe the summer trip in 3 words?
Challenging but unforgettable.
________________________________________________________________________________________________________________________________________________
---
VOLUNTEER SPOTLIGHT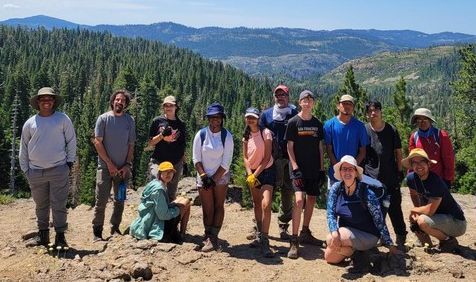 Jeff McFarland, leader Donner Pass 2022
Occupation: Retired! Prior to that, I worked 30 years in the chemical industry starting in R&D all the way through managing various business areas at the end.
Why did you get involved with The Woods Project? 
The mission of TWP combines a bunch of my passions: service, youth development, and the outdoors. When I first encountered a TWP group back in 2016 while hiking with our Boy Scout troop, I was immediately drawn to it. I learned more about TWP and began donating until I could give my time. I had always been on the lookout for outlets for my passions after I retired, and now I have TWP. It hasn't disappointed.
What is your favorite memory from volunteering with TWP?
Waking up to the sunrise the last morning on trail with a 100-mile view to the east and the mist building off the lake below us to the west. You don't get rewarded with that unless you earn it through hard work.
What most surprised you about going out on trips with us?
How much change there is in the students just during those 2 weeks. You hear about it, but it's hard to know what to expect until you do it.  It's almost immediate. They absorb and grow so much because they are engaged with each other and the experience. Once they are disconnected from their phones, they become kids again. Board games, card games, deep discussions, silliness, simple fun. They interact in a different way and learn through each other.
What value do you think TWP brings to the communities it serves?
Many of the students have not been exposed to the world beyond their immediate surroundings. This experience lets them explore outside that environment and grow through taking on new challenges at the same time. It can open their minds to unknown opportunities for them in the world. It fuels an awareness and a desire that helps broaden their potential. They also get a chance to learn about themselves – and to discover and develop unknown strengths and abilities that will help them as they move forward into their future.
What would you tell someone who's interested in what we do but has never been out on a trip with us?
It's not just a hiking trip. Yes, we do backpack but it's much more than that. The hiking is just the vehicle to challenge our mental and physical limits. In that environment, the students (and leaders) get to experience success and challenges, learn from adversity and uncover unknown personal strengths. The students and leaders come away surprised at our resilience and strength to achieve more than we thought we could. If you are interested in helping students achieve growth and development they never imagined and help them learn how to move toward their true potential, it's for you!
Can you describe the summer trip in 3 words?
Incredibly rewarding (and) fulfilling
Has your experience with TWP affected other aspects of your life (work, lifestyle, values)?
It has really helped fill a part of me that I think is core to who I am. I always feel so good and positive after every event. When I am with the students, I get to teach them life skills and outdoor skills. I get to see them succeed and positively learn from challenges.  When I am with other volunteers, I am in a group of people with shared values. I just feel comfortable and happy. It brings me joy.
Anything else you'd like to share?
Don't be reluctant to get involved because you aren't sure what you have to offer. You don't have to have outdoor skills to succeed. There are lots of us who can help you learn that. Not sure about dealing with teenagers? They will amaze you if you bring an open mind and good attitude. These kids are outstanding and they are motivated. Challenge yourself and give it a try. You won't regret it.
________________________________________________________________________________________________________________________________________________
THANKS FOR A GREAT SUMMER!


Summer 2022 could not happen without TWP's dedicated volunteers, talented education and wilderness partners, and so many generous supporters.
THANK YOU FOR CHANGING THE LIVES OF OUR STUDENTS WITH YOU SUMMER DONATIONS OF GOODS AND SERVICES!
| | |
| --- | --- |
| CVS Pharmacy | Turk Services, Inc. |
| H-E-B | Viasat |
| Nuun | Warehouse Rack Company |
________________________________________________________________________________________________________________________________________________
---
FALL WEEKEND TRIPS ARE BACK!

We could not do this without YOU! It takes an army of volunteers to help TWP prepare for and execute life-changing wilderness exploration experiences for the most deserving of Houston high school students! Not only do your helping hands get our camping gear and food ready, they also guide our students along the trails.
Grab some friends & coworkers and join us for one or more of these events:
September 22: First Aid Kit Restock volunteer event
September 29: Fall Volunteer Orientation
September 30-October 2: JLP Weekend Trip to Brazos Bend
October 13: Weekend Trip 1 Packout
October 14-16: Weekend Trip 1 to Lake Livingston and Sam Houston National Forest
October 27: Weekend Trip 2 Packout
October 28-30: Weekend Trip 2 to Martin Dies SP and Sam Houston National Forest
November 12: Walk for The Woods Project
December 1: Weekend Trip 3 Packout
December 2-4: Weekend Trip 3 to Little Thicket Nature Sanctuary and Sam Houston National Forest
Stay tuned to the Calendar page on our website for all upcoming events and trips! If you have questions about volunteering, please contact Adriane Arnold at adriane@thewoodsproject.org.
________________________________________________________________________________________________________________________________________________
---
WALK WITH US!

Meet TWP alumni at Walk for The Woods Project, presented by ENGIE
Lace your shoes and join us on Saturday, November 12th!
Make plans to join us for this scenic walking tour exploring the beautiful trail along Buffalo Bayou and the historic East End community.  Start Line activities will take place at BakerRipley Ripley House.
Join ENGIE by becoming an event or team sponsor for the 2022 Walk for The Woods Project! Contact Jessi Manley, jessi@thewoodsproject.org, with questions.